In today's day and age, we're noticing an apparent shift in what most Americans find attractive in home decor. What once was ultra modern and sleek decor is now turning into something much more natural and rugged. If you're looking to update your kitchen to stay on-trend with the popular rustic or shabby-chic style, keep reading. Below we've compiled a list of the 10 best home furnishings that can help turn your boring, outdated kitchen into a rustic kitchen worthy of Pinterest dreams.
Comparison Table
Best Home Furnishings: Rustic Kitchen FAQ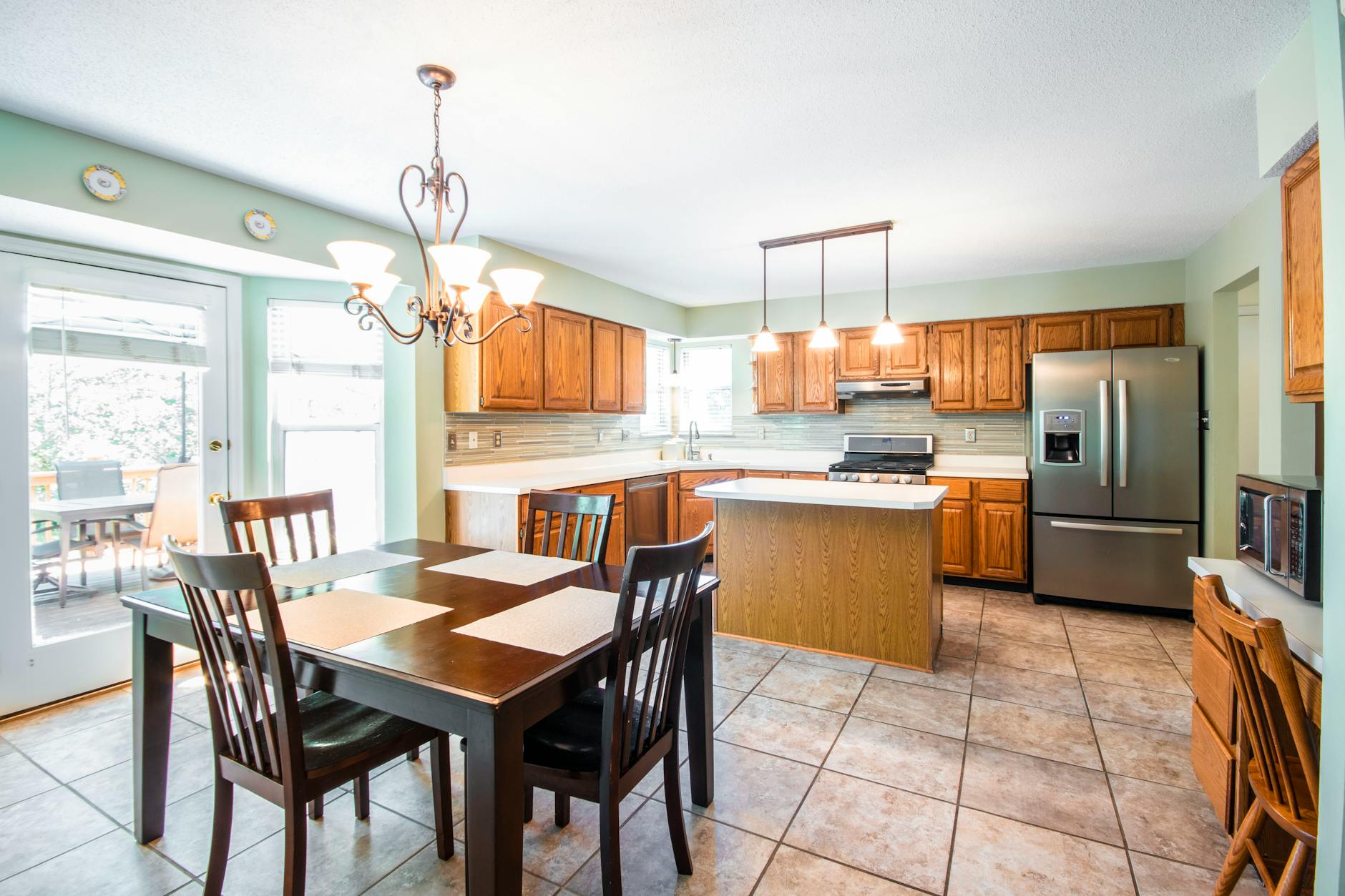 image source: Pexels
The kitchen is often the focal point of a home. It is not uncommon for people to gather around a kitchen space during parties, events, and even casual social gatherings. That's why it makes it so important that you love the design and style of your kitchen. If you're interested in making the switch to more rustic decor, take a look at the common questions answered below.
What Is rustic decor?
Rustic decor can encompass many styles and different directions and interpretations of "rustic." What is most common, when it comes to rustic decor, is decor that has a rugged or natural beauty to it. This is why you'll see a lot of wood-based objects. Additionally, rustic decorations almost always feature some form of farmhouse design, whether it be in style or featuring common animals like cows, pigs, chickens, and roosters.
The rustic decor will often feature earthborn colors such as browns, greens, and even off-white. It is not uncommon for rustic decor to be vintage and contain reclaimed materials or objects that may be considered antiques. Most objects in rustic decor will be light and airy, rarely being dark in color or feel.
How We Reviewed the 10 Best Home Furnishes
Our review of the ten best rustic kitchen finishes was extensively researched across a wide range of websites and products. We not only wanted to ensure that these products were easy to find and purchase for every state, but we also wanted to make sure they wouldn't break the bank.
There is a trend to have over-priced home goods; however, you can completely transform your home in half the price if you're smart! That's why we based our selection on the following strict criteria: how accessible is the product, how expensive it is, how useful it is, how attractive is the product, how versatile is it, and of course, how difficult is the item to hang up or install yourself.
What We Reviewed
Barnyard Designs Rustic Metal Jars
HOMOKO Mason Jar Sconce
MRC Wood Products Rustic Wood Wall Sign
MyGift Wood Cooking Utensil Holder
MyGift Rustic Wood Wall Organizer
Sparrow Decor Mason Jar Canister Set
Premium Home Mason Jar Soap Dispenser
Boston Warehouse Rustic Wall Plaque
MyGift Rustic Decorative Sign
Granrosi Vintage Kitchen Utensil Holder
Barnyard Designs Rustic Metal Jars
Barnyard Designs Decorative Galvanized Metal Jars with Rustic Handles, Wood Lids and Tray, Vintage Farmhouse Primitive Country Home Decor Jugs with Farm Animal Designs, Set of 3
Decorative galvanized metal jars - This decorative galvanized metal jar set, complete with wooden lids and tray, makes a rustic home decor accent. Farm animal jugs featuring a cow, chicken, and pig print on the front.
Farmhouse country accent - This unique vintage jar set will complement your home with primitive-style, farmhouse decor. The distressed metal jars have been intentionally rusted and faded to give them a touch of old country charm.
Multipurpose cans - These farmhouse milk can jugs are quite versatile and can be used as kitchen or bathroom storage containers, herb pots for fake flowers, coffee table centerpieces, or as decor for a kitchen counter top, fireplace mantel, or shelf.
Dimensions - Set of 3 metal jars with lids and a tray. Material: Galvanized metal and wood. Measures: 16.5" x 8.75" x 6.5". The carry tray fits all of the jars for a clean and tidy look.
Barnyard happiness guarantee - If you are ever unhappy with the product, just let us know and we will solve it for you immediately. We pride ourselves on high-quality products and happy customers.
Features
The Barnyard Designs Rustic Metal Jars by Barnyard Designs are a great choice if you're looking for rustic kitchen decor. These jars feature a farmhouse style with a cow, pig, and rooster on the front. The best part about The Barnyard Designs Rustic Metal Jars are their versatility. These jars are adorable and functional!
PROS​​​​​
Farmhouse style accent
Decorative and useful
Can be used inside or outside
CONS
The design isn't guaranteed to contain a cow, pig, and rooster
The animal design may be slightly off-center
HOMOKO Mason Jar Sconces
HOMKO Decorative Mason Jar Wall Decor - Rustic Wall Sconces with 6-Hour Timer LED Fairy Lights and Flowers - Farmhouse Home Decor (Set of 2)
TIMER FUNCTION, more energy saving. Using TIMER mode: light is on for 6 hours, then auto-off for 18 hours, next day the same time automatically lights up for 6 hours, repeated cycle. For instance, you turn on at 6:00 pm, it will auto-off on 0:00 am, then auto-on by 6:00 pm, auto-off by 0:00 am...
Size: Wooden board - L11"xW4.3"xH1.2"; Jar - diameter 3", Height 5", capacity of 16oz. DIY Fun: you can customize the jars with other flowers that you love to match with.
HANDMADE and HIGH QUALITY MATERIALS: All natural handpicked wood, cut, sanded, and stained by hand. Each one is unique. All parts are quite easy to mount.
VERY CLASSY DECOR IDEA - They add such a nice accent to your hallway, garden, kitchen, bathroom, living room, bedroom, dining room, and anywhere you like to have a romantic experience. It is also perfect for the cafes, bars, bistros, bakeries, etc
PERFECT GIFT IDEA: Nice household decoration is also a perfect gift for your friends, lovers, anyone you want to give. Perfect for housewarming party, birthday, bridal shower, wedding, Christmas gift. Create your own warm and romantic lighting atmosphere
Features
The HOMOKO Mason Jar Sconce is a beautiful addition that works well inside and outside the home. They're incredibly easy to mount yourself and the soft glow provided creates unrivaled warmth and peace to a space. If you're looking for something more in the shabby-chic area of rustic kitchen decor, the HOMOKO Mason Jar Sconce is the item for you.
PROS​​​​​
Battery operated
LED lights with on/off switch
Multipurpose
CONS
Flower colors may vary
Battery pack sticks out
Lights are white, not soft white
MRC Wood Products Rustic Wood Wall Sign
Pantry Open 24/7 White Rustic Wood Wall Sign 6x18 (White Unframed)
MRC Wood Products makes this in Pittsboro, Indiana from baltic birch wood
The design is permanently printed on the wood and will not chip, peel, or fade
Measures 18" wide by 6" tall and is 1/2" thick
Includes hardware to hang on the wall
Satisfaction guaranteed. If you don't like it, send it back for a refund!
Features
Having a sign outside of or in your pantry is an adorable way to bring that farmhouse feel inside your home. The MRC Wood Products Rustic Wood Wall Sign in the style Pantry Open 24/7, is a beautiful addition to any space. The best part about this sign is your satisfaction is guaranteed, so if you don't like, simply return it for a full refund, no questions asked.
PROS​​​​​
Won't chip or fade
Includes hardware to hang the sign
Satisfaction guaranteed
CONS
Not real wood
Laminated appearance
Smaller than it appears
MyGift Wood Cooking Utensil Holder
MyGift Torched Wood Kitchen Utensil Holder Organizer, Countertop Flatware Silverware Cooking Utensil Crock Storage Caddy with 2 Compartments
Kitchen countertop 2 compartment wooden utensil caddy with torched wood finish, perfect for storing and organizing your essential cooking tools
Features 2 separate compartments perfect for organizing your spatulas, ladles, serving utensils, and wooden spoons, also great for storing art supplies like paint brushes, markers, knitting needles and more
Simply fits on your kitchen countertop to save drawer space and allows you to keep your cooking tools easily accessible and right where you need them
Rustic torched wood finish will compliment many different settings and décor styles brightening up any space
Approximate Dimensions: Overall - 9.5 L x 4.7 W x 7.0 H; Each Compartment - 4.0 L x 3.8 W x 6.8 H (in inches)
Features
Bringing a rustic kitchen to life requires a little bit more than paint and new flooring. The MyGift Wood Cooking Utensil Holder is a great way to begin incorporating rustic decor into your vision. Although the USPTO patent is pending, this makes a great addition to any kitchen.
PROS​​​​​
2 Separate compartments
More affordable
Rustic style
CONS
Small in size
Product can smell
MyGift Rustic Wood Wall Organizer
Features
Looking for a shabby-chic decoration that will help bring your rustic kitchen vision to life while still offering some functionality? The MyGift Rustic Wood Wall Organizer is a perfect choice. Not only is this extremely easy to hang, but it's also a great way to showcase your favorite memorabilia.
PROS​​​​​
Easy to hang
Rustic/farmhouse design
Beautiful and useful
CONS
Hardware not included
Smaller than it looks
Lightweight and less durable materials
Sparrow Home Decor Mason Jar Canister Set
Sparrow Decor Mason Jar Kitchen Canister Set - Set of 3 Kitchen Canisters - Large, Round Ceramic Sets for Vintage, Rustic, or Farmhouse Look - Storage for Flour, Sugar, Tea, Coffee and More (Blue)
VINTAGE FARMHOUSE LOOK - Our kitchen canister set brings back the old antique feel to your countertop. Enhance your farm house look with a vintage mason jar style in a cool blue color that accents your decor. Makes a perfect gift for a birthday, house warming, or wedding.
LARGE TIERED STORAGE - Store everything from flour, sugar, coffee, tea and more. The tiered storage arranges neatly on your kitchen counter top and allows you to utilize the jar size most appropriate for your needs.
SILICONE SEAL LOCKS IN FRESHNESS - Canister tops feature a silicone seal that is used to lock in the canister's contents, increasing freshness.
THREE DIFFERENT CONTAINER SIZES - 4.7 inches wide and deep at the base with 3 different heights: 6.3in, 7.1in, and 7.9in.
100% SATISFACTION GUARANTEED OR YOUR MONEY BACK - If you're not satisfied with your purchase for any reason, just let us know, and we'll make it right.
Features
The Sparrow Home Decor Mason Jar Canister Set brings the vintage farmhouse into your kitchen. Not only are these a great form of storage due to their size, but the silicone seal also helps lock in freshness, unlike many other mason jars. The best part? The Sparrow Home Decor Mason Jar Canister Set guarantees 100% satisfaction or your money back.
PROS​​​​​
Vintage farmhouse look
Large tiered storage
Silicone seals
CONS
Silicone seals tend to fall out
Hard to open
One color only
Premium Home Mason Jar Soap Dispenser
Mason Jar Soap Dispenser - Kitchen Soap Dispenser, Dish Soap Dispenser - Farmhouse Decor Hand Soap Dispenser for Bathroom or Lotion Dispenser (16 Oz, 304 Stainless - Rustproof Copper Pump)
WHEN IT COMES TO YOUR HOME DECOR, don't settle for a Soap Dispenser Mason Jar Pump that turns out to be CHEAPLY MADE and starts RUSTING as soon as it gets wet. The Premium Home Quality Mason Jar Soap Pump & Lotion Dispenser features thick, zero-lead, GLASS jar with Pump and durable, heavy-duty food-grade 304 STAINLESS STEEL that's resistant to RUST and corrosion.
UNLIKE OTHER HAND SOAP PUMP for MASON JAR DISPENSERS that are HARD TO PRESS and stop working, our iconic MASON JAR dish soap dispenser is designed with a FOOD-GRADE, premium-grade stainless steel soap pump and lid that's designed to dispense the perfect amount of product & deliver YEARS OF QUALITY PERFORMANCE. We recommend hand-washing this mason jar pump. DISHWASHER-SAFE glass masonjar! Many decorative hand soap mason jar dispenser and mason jar hand soap dispenser options.
CLASSIC, CLEAN DESIGN with Chic Wood Mason Jar Tag! With its streamlined shape, GLEAMING stainless steel, and durable SMOOTH GLASS detailing, our 7" x 3.5" decorative soap dispenser adds a touch of rustic style to any kitchen or bathroom counter decor. This EASY-TO- CLEAN glass soap dispenser with pump holds 16 OUNCES of hand soap, DISH SOAP, body wash, LOTION or even ESSENTIAL OILS and mouthwash! Our 4 complementary WATERPROOF CHALK LABELS are a stylish touch to identify contents easily.
GOOD TO THE EARTH – When you buy our liquid soap dispenser, you're also investing in the PLANET'S WELLNESS. Help us bring a stop to plastic soap pump dispenser s and lotion bottles that end up in LANDFILLS and POLLUTE the environment. Our reusable soap dispenser for bathroom and glass dish soap dispenser for kitchen can be re-used, saving the earth from EXCESS WASTE and shaving expense off your HOUSEHOLD BUDGET when you buy liquid soap in bulk and REFILL your clear glass soap dispenser.
AT PREMIUM HOME QUALITY, our name says it all – we take pride in producing the HIGHEST-QUALITY KITCHEN & BATHROOM ESSENTIAL s you'll find on the market. As a FAMILY-OWNED, U.S.-based small business, our goal is to provide an exceptional experience for every customer. If for any reason you don't love your farmhouse decor mason jar soap dispenser, please REACH OUT so we can make it right. HAPPY CUSTOMERS ARE OUR TOP PRIORITY.
Features
The Premium Home Mason Jar Soap Dispenser is a gorgeous and eco-friendly addition to a rustic kitchen. The Premium Home Mason Jar Soap Dispenser has a 100% satisfaction guarantee. The best part about Premium Home Quality, makers of the Premium Home Mason Jar Soap Dispenser, is their guaranteed quality. Using premium and quality materials ensures you're always getting the best of the best.
PROS​​​​​
Shabby-chic style
Eco-friendly
100% Satisfaction guaranteed
CONS
Not great quality
May rust
Expensive
Boston Warehouse Rustic Wall Plaque
Boston Warehouse Rustic Farmhouse 3 Panels, Eat Wall Plaque
Rustic Reclaimed Wood-Inspired wall plaques; set of 3 plaques spell EAT
Features a beautiful reclaimed wood style with a subtle metal and rope accent for that unique farmhouse touch and the very on-trend Magnolia Farmhouse feel
Warm and inviting design adds serious charm to your home decor!
The plaque set measures 18" x 15"; mounting hardware is included
Look for more creative ideas for your home and kitchen from Boston Warehouse
Features
The Boston Warehouse Rustic Wall Plaque in the style of three panels "EAT," is an elegant, reclaimed piece of decor that is sure to help make your kitchen much more rustic. The plaque measures 18" x 15," and the mounting hardware is included. The best part about this particular piece of decor is that its real wood, so you know it will last for many years.
PROS​​​​​
Real wood
Rustic and reclaimed materials
Warm and inviting
CONS
Smaller than it appears online
Hardware not included
Not very durable
MyGift Rustic Decorative Sign
MyGift Rustic Multicolored Solid Wood HOME Cut Out Word Sign, Kitchen Framhouse Frestanding Decor, Mantel, Above Cabinet Decor
Decorative rustic wood "HOME" sign in individual letters, cut from solid wood
Wooden word art is big enough to make a statement yet perfect size to display on any shelf, tabletop, counter top, or desktop area
Freestanding letters make a beautiful centerpiece or decorative accent for your home
Cutout letters from stylish distressed wood construction with vintage teal, brown and white letters can be incorporated in a variety of decors
Home wood blocks approximate dimensions: 16.5 W X 6 H X 0.75 D(in inches)
Features
The MyGift Rustic Decorative Sign is a great choice if you're just beginning to transform your kitchen's current style into more of a rustic feel. The MyGift Rustic Decorative Sign is great because it doesn't require you to hang it, it is a free-standing sign. The best part about this sign is the price. For such a large decorative item, it's very reasonably priced especially when you consider the quality.
PROS​​​​​
Freestanding
Made of real wood
Shabby-chic style
CONS
Tips over easily
Poor quality shipping packaging
Paint can easily chip
Granrosi Vintage Kitchen Utensil Holder
Features
The Granrosi Vintage Kitchen Utensil Holder is a great vintage inspired utensil holder that's sure to make your kitchen look much more rustic. What makes the Granrosi Vintage Kitchen Utensil Holder great is the overwhelming high-end quality to the product. This utensil holder features a long-lasting coating and non-toxic materials perfect for long-term use.
PROS​​​​​
Vintage appearance
Long-lasting outer coating
Easy to clean
CONS
Not as large as the photos make it appear
Comes in only one size and color option
The Verdict
image source: Pexels
Rustic design can be as versatile as you make it. With offshoots such a shabby-chic and farmhouse-chic, you can customize exactly what rustic means to you and your design elements. Whether your style features vintage elements, earthy colors, or farmhouse accents, there are pieces of decor out there perfect for you! Don't get caught up on price either, you can always make your own rustic designs for much cheaper than store bought ones.
If you're ready to take your home to the next level, don't be afraid to experiment with the decor. Decorations are an easy and affordable way to quickly update and transform the style of a home. No matter your price range, installation ability, or personal style there are so many best home furnishings to choose from to help you make your design vision a reality.
Last update on 2023-03-22 at 01:46 / Affiliate links / Images from Amazon Product Advertising API